Learn Today, Lead Tomorrow: Global Engagement Fellows Magazine Centers Student Catalysts
The global engagement fellowship program empowered me to broaden my horizons and showed me the power of collaboration, as I learned from incredible mentors and connected with a diverse network of young leaders from all over the world, inspiring me to be a more effective agent of change.
—Srijan Banik, Global Engagement Fellow at BRAC University, Bangladesh
OSUN's Global Engagement Fellows have just released their second Annual Magazine, a full-color digital volume with over 60 pages of inspiring civic engagement success stories and insider accounts by and about students who have developed their own civic engagement projects across the network during 2023. These young catalysts are creating real positive changes in their communities around the globe and motivating others to do the same.
"Learn Today, Lead Tomorrow," by Global Engagement Fellow
Hala Alanani
, explains how Al-Quds Bard College students
Elias Amro
and
Natalia Handal
together created Investapeer Academy, an online peer tutoring platform that seeks to "make education a right rather than a luxury."
Students in Palestine and across the network who might be struggling financially or in other ways can join Investapeer's digital platform to take advantage of technological services connecting them to free educational workshops, classes, and clubs. There they can meet fellow students who might be experts in biology, economics, or any field they want to explore as a career path. Investapeer services make the services educational tech companies usually provide more affordable for students in need.
"Civic Engagement: A Potential Gateway to Explore the World," by Global Engagement Fellow
Aidan Turganbekov
, tells the story of
Uulzhan Bekturova
, who was first exposed to OSUN civic engagement classes and programs while studying at American University of Central Asia in Kyrgyzstan. Inspired by what she saw, Bekhturova and her team organized workshops for rural youth in northern Kyrgyzstan, teaching them to use photography to spread awareness of local human rights violations, such as domestic violence.
Bekturova then took her commitment to civic engagement to the next level, applying to and being accepted into Bard College's Program for International Education (PIE), which provides a fully-funded semester in New York. The opportunity gave Bekturova valuable international experience that she now applies to implementing her projects at home in Kyrgyzstan.
In "Embracing Gender Equality,"
Chinenye Ejereonye
relates how she, a Global Engagement Fellow at Ashesi University in Ghana, co-founded Code4All to give students living in underserved communities access to computers and digital literacy training. Specifically, the project seeks to promote girls' engagement in STEM (Science, Technology, Engineering, and Mathematics), instructing them in information technology and programming so they might use those skills to address challenges in their home countries. When COVID-19 impeded rural students' access to project workshops at Ashesi, Chinenye and her team launched a successful campaign to purchase equipment that brought the workshops directly to students and greatly expanded the project's reach.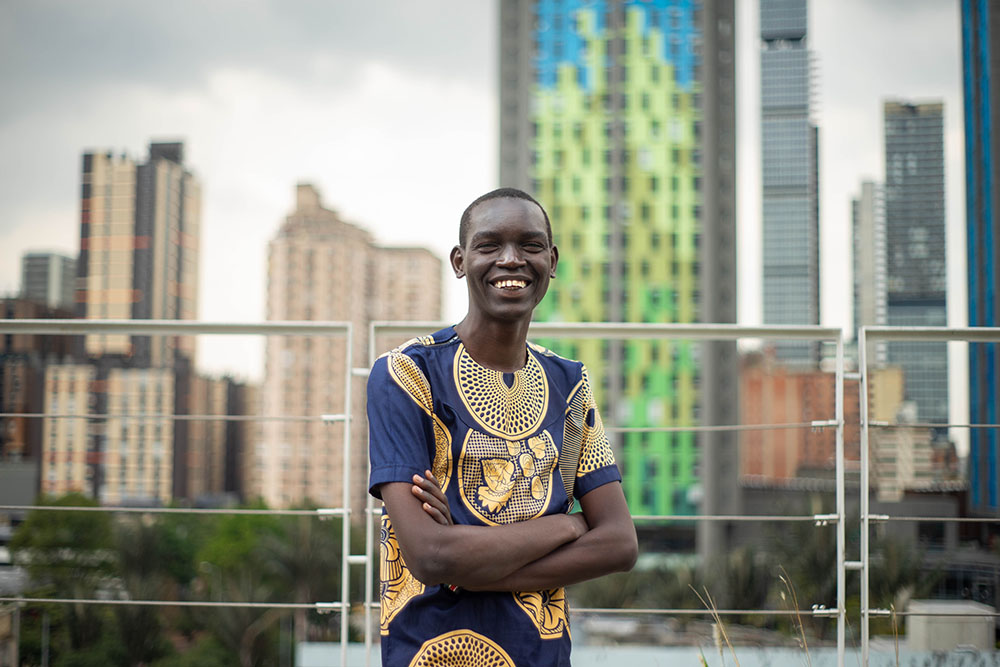 In "Combating Drug Abuse in Kakuma Refugee Camp,"
Robert Aharanya Claudio
, a Global Engagement Fellow at the OSUN Hubs for Connected Learning Initiatives, examines the problem of increased rates of drug abuse and violent crime among youths in the camp where he lives in northwest Kenya. After community members worked with law enforcement and a disciplinary committee to curb some of the illegal activity, Claudio and his team now provide counseling, rehabilitation, and educational resources so offenders might return to school so they are less likely to enter the incarceration system.
The magazine features several more articles providing international context to the projects, as well as practical insights and critical takes on why civic engagement projects succeed or fail. Student writers also detail the various types of workshops and conferences that Global Engagement Fellows regularly provide and explain how interested students can get involved.
OSUN congratulates all of 2022/23 Global Engagement Fellows and hopes that OSUN community members can take a moment to read up on some of their outstanding achievements!
Post Date:
04-03-2023