In Her Own Words: An Interview with Erica Kaufman on the New CLASP Fellowship Program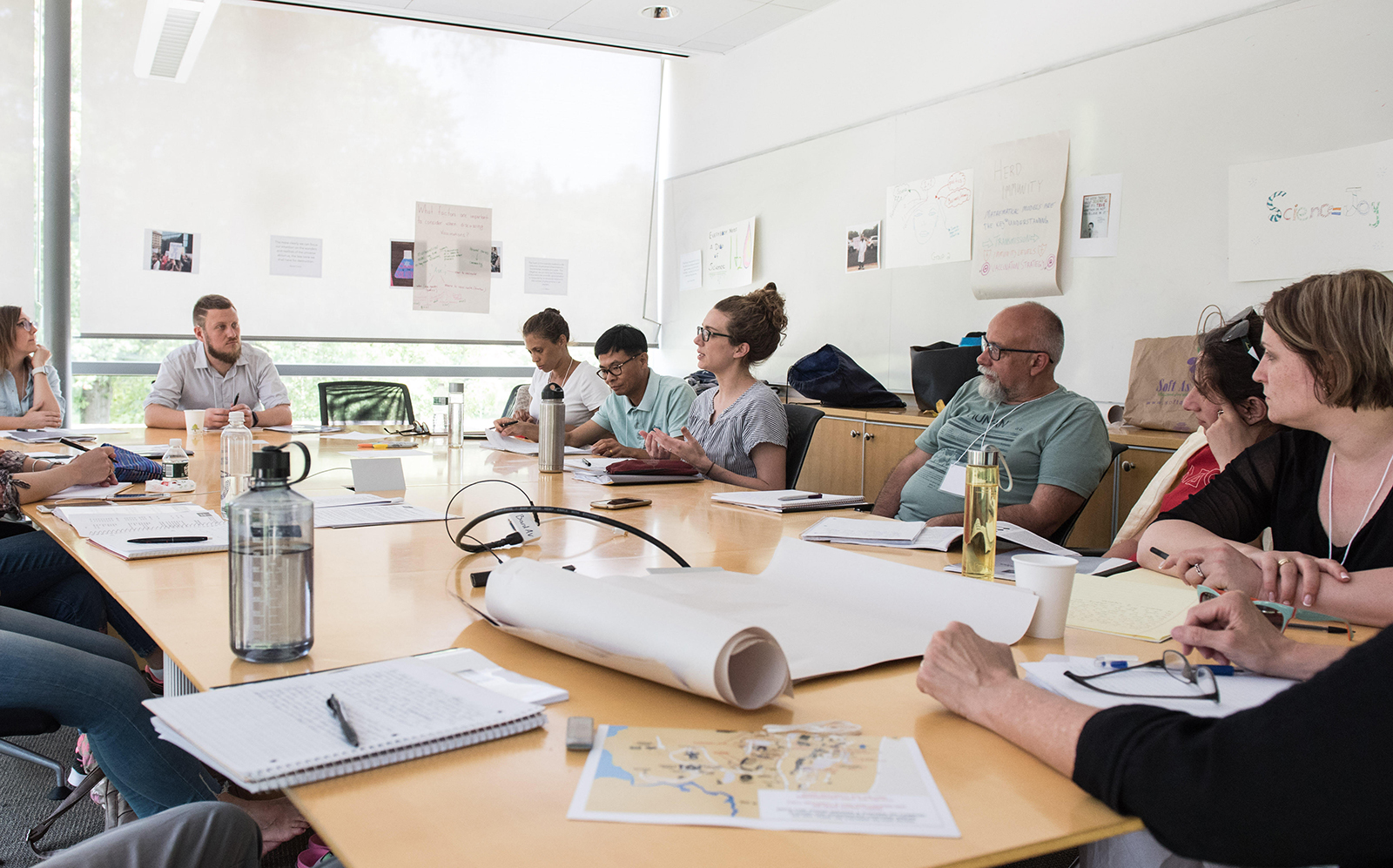 Erica Kaufman
, Director of OSUN's
Center for Liberal Arts and Sciences Pedagogy
(CLASP) and the Bard College Institute for Writing & Thinking, recently shared her thoughts on CLASP's new
fellowship program
, a two-year professional development opportunity for early and mid-career OSUN faculty interested in writing-based, student-centered liberal arts pedagogy. What follows is an edited version of her comments.
Can you explain what the Center for Liberal Arts and Sciences Pedagogy is and what it does?
CLASP is an OSUN project established by the Institute for Writing and Thinking (IWT). IWT offers professional development workshops for faculty around the world with a focus on writing-based teaching and critical reading and writing practices. What CLASP does is slightly different: it makes available regular workshops, which are usually quite expensive, to an international network of faculty who might not normally have access to pay for them. CLASP also offers a full spectrum of pedagogical workshops beyond writing that focus on teaching in the liberal arts tradition; student engagement and motivation; how to hold classroom discussions; and ways to design syllabi and assignments, so students feel like they have a choice in their own education.
Can you tell us how the fellowship came about and some of its goals?
The Fellows Program has always been intended to be the core of CLASP's work; however, OSUN and our project began in the midst of a pandemic so we had to shift gears pretty quickly to assist faculty who were suddenly teaching online. The fellowship was postponed and that was actually great because it gave us a chance to hear more from our partners about what they needed.
The program will produce two results. First, it generates trained fellows with expertise in liberal arts and sciences pedagogy and embeds them in campuses across the network. Second, the fellows themselves will be researching the kind of liberal arts pedagogical practices that succeed in their own classrooms at their own campuses. So we'll both be training faculty to increase support across campuses and we'll be generating new research and scholarship on the pedagogy that we practice. The program also prepares the fellows so they can continue to facilitate workshops on their own campuses and collaborate to develop new workshops that bring OSUN faculty together around pedagogical topics.
What can educators expect from engaging with the fellowship?
We hope the fellows who apply will be faculty who are not brand-new to an institution, who are maybe early to mid-career. We are particularly interested in faculty who are in positions where they're committed to their OSUN partner institution and will be there for a while. We are also excited to welcome faculty from across all disciplines, so this is not something that's just focused on the humanities.
The nuts and bolts of the program revolve around the monthly online workshops that are spread throughout the academic year and cater to what the fellows want. We hope to convene in-person at an OSUN partner site in Europe in January and then at Bard in Annandale in July, pending COVID.
The first year is really the training year and the second year is the content year, when we begin to move towards a mentoring, research, and experimentation model. Fellows will be intentionally trying out strategies in their own classrooms, identifying a research project that they're exploring, and then bringing that to our sessions for feedback.
In the second year we will also bring on a new cohort of fellows, so there will be a mentoring opportunity for the already experienced fellows. And we're going to use Brightspace (a cloud-based learning platform) which will allow us to build up a collaborative archive of materials that can be used for future online modules.
The mentoring aspect of the fellowship is really interesting and innovative–sort of a built-in model of sustainability.
OSUN adds a whole new range of different kinds of institutions and faculty expertise to the conversation. We really feel it's important to collaborate with our partners and offer them the support they need to be thinking seriously about what it means to teach in an interactive, student-centered way in different contexts.
It seems collaboration is key in that the program welcomes educators from many different disciplines and it is also collaborative across institutions.
Our workshops are best when we're learning from the people in the room and I think that ethos is represented beautifully by all that OSUN stands for and does. Let's say a Spanish-speaking university is interested in learning more about writing-based teaching. My hope would be that through the fellows program we have people within the region or school who could create and lead the workshops themselves.
I feel context is so important. One of the goals we have is to really build this contextual, intercultural knowledge and begin to think about what are best practices in liberal arts education that is intentionally and authentically global and culturally sensitive. I'm not interested in bringing any particular pre-made model to a new context. Instead, we want to build something new with the faculty we work with.
The call for the fellowship says the commitment is intense. So it's important that fellows be able to commit to contributing to this project going forward.
The thing that I'm increasingly fascinated by is that in the field of writing-based teaching there is little research on how these practices work on a global level and beyond English-language learning. So it seems everything that we're doing as a network should be written up because it represents a significant contribution to the field of writing studies. That's something I feel incredibly excited about.
From my experience, doing this work and teaching myself, I know that the growth that students experience when faculty move from a more faculty-centered to a student-centered teaching model is really significant and really surprises faculty. So I feel like the capstone research project and year two is something that can have a real impact on the field of thinking about global higher education.
Do you see the program as a workshop of sorts for establishing a "COVID-era" way of learning?
Absolutely. I think that being pressed to teach online very quickly invited faculty to perhaps pay more attention to what they do in the classroom. Teaching online is really very hard sometimes as there are so many wild cards in play. Now you have to sit down and plan and really think about the practice of teaching intensely. And we're obviously very lucky in that we have a network of educators who care deeply about their students and about what it means to teach in a college or university environment.
I also think that, as faculty are returning to in-person classes, there's going to be a ton of excitement. And so I'm hoping that this will enable us to really build and create a stronger collaborative bond across campuses by virtue of the fact that we're all doing this thing that we care so much about.
Accepting applications until August 30, 2021, the CLASP fellowship runs on a cohort model with 20 fellows joining each year. Fellows come from a range of disciplines and institutions across OSUN's global network. Educators who have completed the fellowship will be equipped to offer their own intensive workshops in pedagogy, cultivating future generations of OSUN faculty so they can in turn lead blended workshops and collaborate with colleagues at partner institutions.
Post Date:
08-10-2021