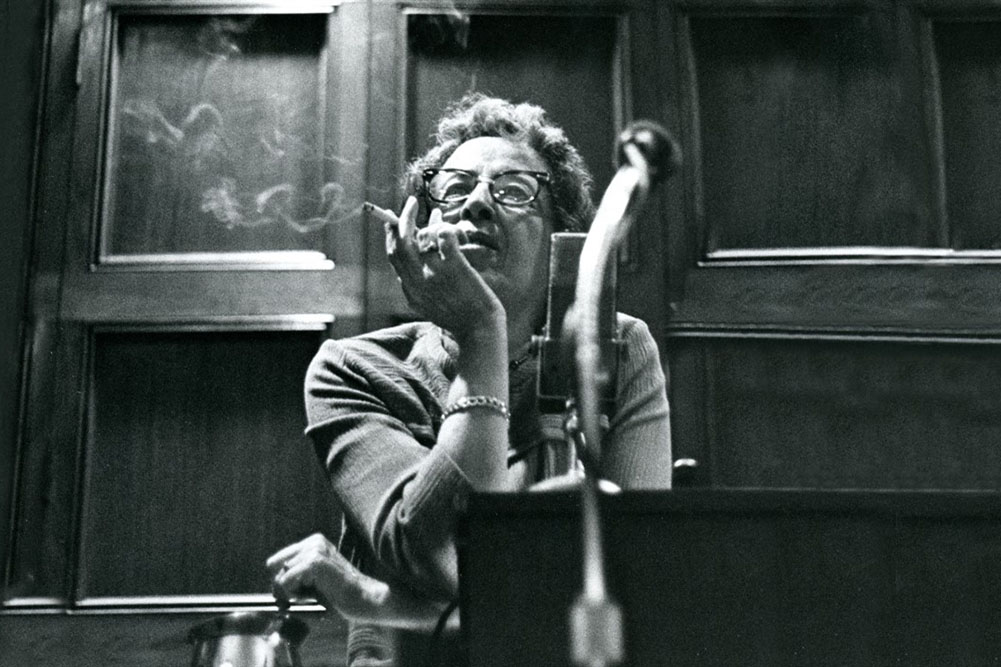 Hannah Arendt Humanities Network, OSUN
Call for Applications: Klemens Von Klemperer Post-Doctoral Fellow
The Hannah Arendt Center for Politics and Humanities at Bard College announces one post-doctoral fellowship for the 2021-2022 academic year. The fellowship runs from August 29th, 2021 through May 31, 2022, and includes compensation of $30,000 as well as medical benefits. The fellowship is for one year; renewable for a second year.
In residence at the Arendt Center, the fellow will pursue his or her independent research at the Center, which includes Hannah Arendt's personal library. The fellow will have access to Arendt's Digital Archive through a relationship with the Arendt Center in New York City. In addition, the fellow will have the opportunity to participate in seminars, conferences, lectures, colloquia, and workshops organized by the Center.
The fellow will hold the title of the Klemens von Klemperer Post-Doctoral Fellow and teach one (1) course each semester at Bard College's Annandale campus. Additionally, the fellow will teach one (1) course during one semester [either Fall or Spring] in their field of expertise at one of Bard College's satellite campuses in a New York State Correctional Facility. The Bard Prison Initiative (BPI) enrolls 300 men and women across six prisons in Bard College degree programs. BPI's rigorous and ambitious courses represent the full diversity of the liberal arts including history, literature, social thought, mathematics and the political studies. For more information about BPI, go to:
bpi.bard.edu
.
Bard College's main campus is in Annandale-on-Hudson, N.Y., with 1,900 undergraduate students; the College also includes multiple graduate programs. The 1,000-acre campus sits along the Hudson River and offers the Fisher Performing Arts Center, and Hessel Museum of Art, and is the home of the Bard Prison Initiative, the largest college-degree-granting prison education program in the U.S. The Bard Network also includes several Bard High School Early Colleges across the country as well as international campuses and partnerships. The Bard Network is complex and demonstrates Bard's priorities well in addition to the College's emphasis on civic engagement.
Bard College is a private institution working in the public interest. Bard faculty and staff lead their students by example, building upon the existing network of boundary-breaking programs focused on rethinking who can and should be included in a liberal arts education. The successful candidate will excel at working in a community that is broadly diverse with regard to race, ethnicity, socioeconomic status, gender, nationality, sexual orientation, and religion.
Qualifications:
The fellow should have a Ph.D. in political theory, philosophy, or a related field in the humanities, and his or her work should intersect meaningfully with Hannah Arendt's thinking.
Please submit the following documents:
Cover letter, which includes a description of your teaching experience, with an explanation of your research project and interest in the Center
CV
Two letters of reference
Diversity Statement
Application Deadline: June 11
Bard College is an equal opportunity employer and we welcome applications from those who contribute to our diversity. All qualified applicants will receive consideration for employment without regard to race, color, religion, sex, mental, or physical disability, age, sexual orientation, gender identity, national origin, familial status, veteran status, or genetic information. Bard is committed to providing access, equal opportunity, and reasonable accommodation for all individuals in employment practices, services, programs, and activities.
---
Cross Reference:
Fellowship,Opportunities,Hannah Arendt Humanities Network, OSUN
Deadline Expired on June 11, 2021