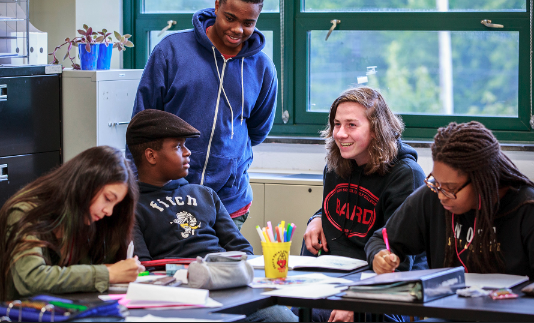 Undergraduate Mobility
Early College Folio Call for Submissions: Unconventional Paths to College Education
OSUN partner institution Early College Research Institute (ECRI) at Bard College at Simon's Rock produces
Early College Folio
, a digital, open-access academic journal focused on the early college movement.
Early College Folio
is currently seeking submissions for Volume 2, Issue 2, titled "Unconventional Paths to College Education." The editors will begin reviewing submissions on January 15, 2023.
The core spirit of the early college idea assumes that diverse student populations need diverse solutions and these solutions may present themselves as unconventional. What are the higher education solutions for students who intellectually mature early and who may not yet meet typical US college admissions requirements? What are the solutions for those students who drop out of secondary schools for various reasons but are now age-wise ready to take on higher education? What are the solutions for those students who are studying out of refugee camps to further their college education goals? What are the solutions for those students who are internally displaced and have lost their identities?
Early College Folio
is interested in innovative solutions that institutions around the world come up with to cater to the various multi-dimensional needs of offering college education in a seemingly unconventional approach. Those who submit are invited to play with the digital format and presentation of this issue, as how it is published is particularly relevant to the topic.
All perspectives are welcome: administrators, faculty, librarians, student life staff, registrars, medical/health services, etc. Please submit materials to the journal by creating a Digital Commons account through the "Submit Article" button on the
website
.
For questions or other submission needs that Digital Commons cannot accommodate, please contact
[email protected]
.
Formal essays and articles are encouraged, but the editors are also interested in considering experimental formats.
Options may include:
3,000- to 7,000-word longer-form essays/articles
1,000- to 3,000-word shorter-form pieces
Creative content: poetry, fiction
Pedagogical reflection upon collaborating on work created with students
Interviews/curated conversations
Letters to the editors and op-eds
Data sets and data visualizations
Podcast episodes
Short film
Recurring sections for which the journal is also accepting submissions include:
Signature lesson plans and scripts
Upcoming events
Early College in the news
Publication announcements (alumni, current and former faculty)
Book reviews and excerpts
Deadline to submit is January 15, 2023
---
Cross Reference:
Call for Submissions,Opportunities,Undergraduate Mobility
Deadline Expired on January 15, 2023