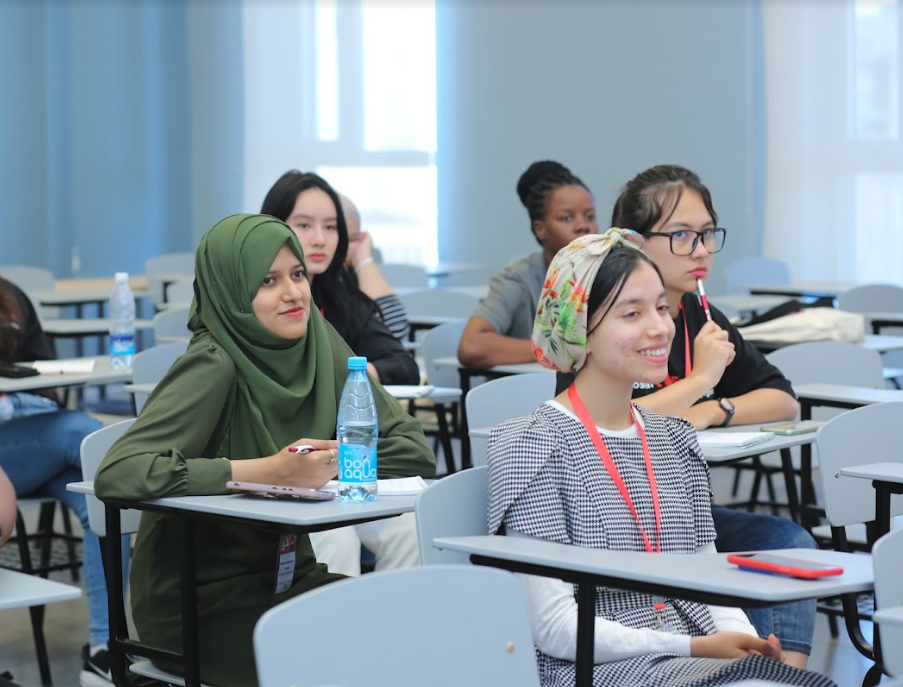 Network Collaborative Course
Network Collaborative Course Proposals for Spring 2023 and Academic Year 2023-24
Deadline Expired on September 30, 2022
The OSUN Portal for new Network Collaborative Courses proposals for Spring 2023 and Academic Year 2023-24 is now open and the deadline for submission is September 30.
Network Collaborative Courses (NCCs) are co-created by faculty across OSUN institutions and are taught in collaboration at two or more partner campuses. These courses expose students to diverse perspectives through a wide range of cross-network readings, assignments, activities, and events. Network courses advance students' understanding of discipline-specific and global issues within a local and international context.
Network Collaborative Courses are closely aligned with OSUN's themes and reflect OSUN's commitment to providing an inclusive and equitable global learning experience to students from different geographies and varied socioeconomic and academic backgrounds. Students in NCCs will have the opportunity to explore issues of critical importance for humanity and the planet, develop partnerships across the network, and gain essential teamworking, intercultural and global learning competencies that can be applied to personal, professional, and community development
All lead faculty and co-faculty involved with the planning of proposed network collaborative courses must be registered in the OSUN Portal by the time of the actual proposal submission. We recommend that you register in the portal well in advance of the proposal deadline to address any technical issues/questions that may arise.
The applications can be accessed from the
OSUN Portal
. In order to access the applications you first need to register on the OSUN Portal. If you have already registered you will not need to do so again.
Register in the OSUN Portal.
Click on the Not registered? link below the Log in button to create your account.
Once logged in for the first time you will see the Register with OSUN form.
Fill in the fields and click the next button at the bottom of the form to complete your registration.
After submitting the registration form you will be able to access the link to the application form.
If you are not sure you are registered or if you have any technical questions, please email

[email protected]

.
As you prepare your proposal, please consult the
course design checklist
and the section on Network Collaborative Courses in the OSUN
Connected and Blended Learning Toolkit.
The introduction of a new network course requires the approval of the relevant Dean or other academic officer at each participating OSUN institution and should follow the institution's process for new course approvals. As you prepare this proposal, your faculty team should consult the Deans or other relevant academic officers at each partner institution that will be offering the course. In most circumstances, the network course should be a part of faculty members' regular teaching loads.
The review of proposals for new network courses is competitive. OSUN supports only those proposed network courses that best meet OSUN's priorities. Endorsement of the course by OSUN does not imply or replace the approval of the course by each participating institution.
The following points of information should be gathered for the proposal form:
First Name:
Last Name:
Email:
Course title (maximum 80 characters including spaces):
Partner Institution/s (committed and potential, select all that apply):
Partner faculty (please confirm that faculty have consulted with their dean or department chair and, wherever possible, will teach the network course as part of their regular teaching load):
Course description (max. 3,500 characters with spaces):
Semester proposed for course delivery:
Number of credits: Credit units (3 U.S./ 6 ECTS; 4 U.S. / 8 ECTS; or other):
What students (level and fields of study) are expected to enroll in this course? (max. 2,000 characters)
If your course has prerequisites, please list them here.
What are the proposed learning objectives? (max. 2,000 characters)
What are the pedagogical, curricular, and/or other benefits of teaching the course in a network collaborative course format? (max. 2,000 characters)
What types of assignments will facilitate collaboration among students across institutions? (max. 2,000 characters)
Is the course intended to be part of an OSUN certificate? If so, please specify. (max. 2,000 characters)
Which OSUN priority does the course most closely align with?
Please specify the Sustainable Development Goal or Goals your course most closely align with:
Please provide a detailed budget in Excel. The honorarium for developing and teaching a network course is $2,500 for the course leader and $1,500 for each co-faculty member. In addition, OSUN will pay $750 per campus for student assistants and $250 for speakers up to four speakers per course. Additional funds (i.e., to cover material costs) can be requested and are subject to approval on a case by case basis.
Please share any additional comments or questions.
Attend Course Proposal Info Sessions:
Wednesday, September 21st, 830-930 AM New York l 2:30-3:30 PM Vienna
Join via Zoom
Deadline for Submitting Proposals is September 30, 2022
---
Cross Reference:
Call for Proposals,Opportunities,Network Collaborative Course