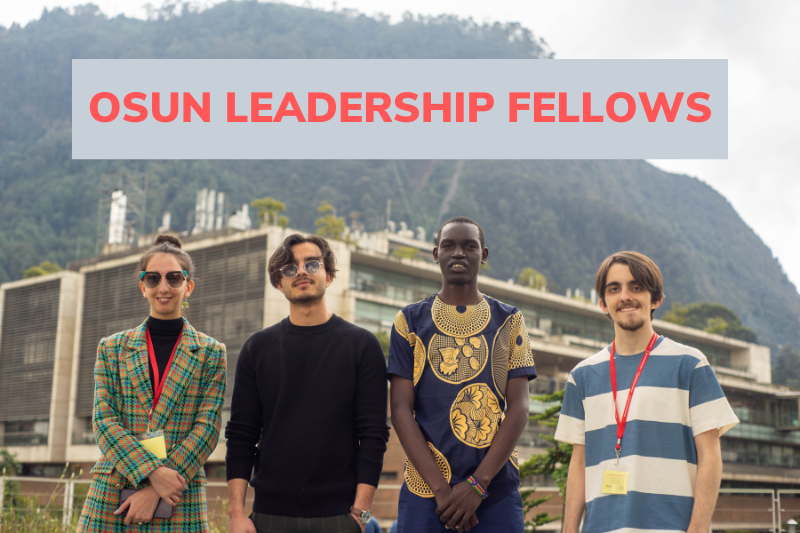 Student Life Initiatives Project (SLIP)
Call for Applications: OSUN Leadership Fellows
Deadline Expired on April 30, 2023
OSUN welcomes students who hold leadership positions on their home campuses, or who are interested in further development of their leadership skills, to apply for the OSUN Leadership Fellows Program. Working with like-minded students from other campuses, OSUN Leadership Fellows will receive ongoing virtual and in-person training designed to help them learn from one another and strengthen their leadership skills.
Program Requirements:
Fellows will be asked to attend four (4) virtual workshops, training, and networking events in the Fall of 2023 in addition to a one-week, in-person international retreat in January 2024.
During the Spring 2024 semester, fellows will also be asked to complete a community capstone project related to themes covered throughout the program including, but not limited to, public speaking skills, community-building, team management and mediation, student advocacy, intercultural communication, conflict management, and self-care and resiliency.
Students who are selected to be a OSUN an Leadership Fellow will receive a $1,000 program stipend.
Eligibility:
Undergraduate students must be in the first, second or third year of a degree program.
Master's students must be in their first year to be eligible.
Questions? Please contact
Tonery Rogers
,
Brian Mateo
, or
Patricia Nae
.
The deadline to apply is Sunday, April 30th
---
Cross Reference:
Application,Opportunities,Student Life Initiatives Project (SLIP)