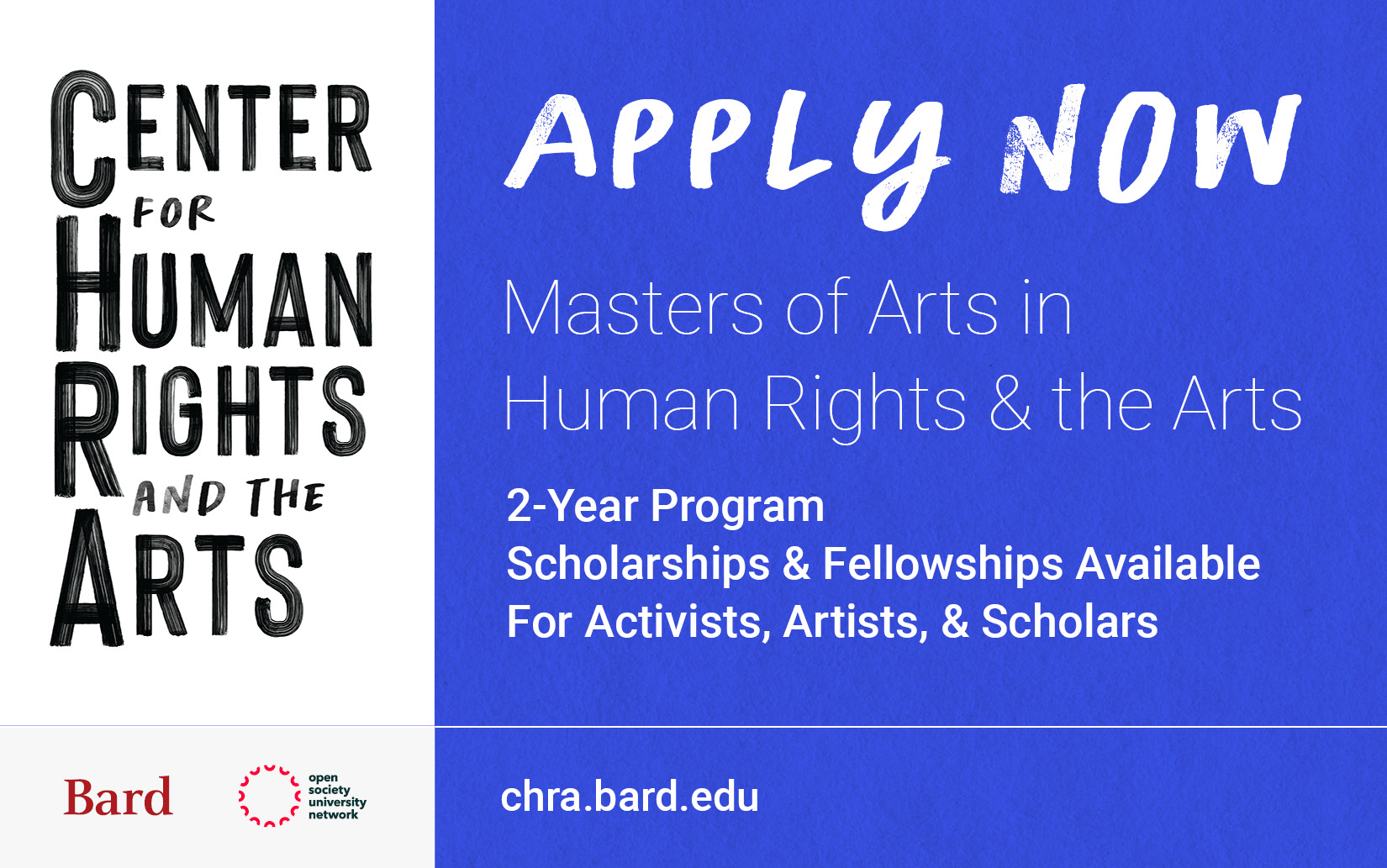 Human Rights, OSUN
Apply for the MA in Human Rights and the Arts
Deadline: June 15, 2021
OSUN's
Center for Human Rights and the Arts
has launched its pioneering
M.A. program in Human Rights and the Arts
. Designed by the Center's core faculty team of
Tania El Khoury, Ziad Abu-Rish, Thomas Keenan
, and
Gideon Lester,
the M.A. is the first-ever interdisciplinary program bringing together scholars, artists, and activists from around the world to explore the productive and contentious relationship between the arts and struggles for truth and justice, expanding on the curricular and extra-curricular elements of the Center.
The MA, a flagship program of the Center, is specifically designed to further two specific goals of OSUN: to make graduate education accessible and affordable; and to emphasize civic engagement. To that end, the program provides ample needs-based financial aid for the incoming class and targets graduating seniors and recent alumni of OSUN partner institutions.
"We envision the MA program eventually serving as a hub for graduate teaching by faculty from across OSUN partner institutions and as an accessible graduate program for alumni of these institutions and the broader public," says Abu-Rish, who directs the M.A. program
The program offers students an advanced interdisciplinary curriculum that takes stock of the growing encounter between human rights and the arts, as fields of both academic knowledge and professional work. Students in the program will pursue core courses in critical human rights theory and practice, as well as in the political potential of various art forms, supplemented with electives across the social sciences, humanities, and arts.
"The ideal incoming class will be a combination of artists, activists, and researchers," adds Abu-Rish. "We look forward to the explosion of ideas, proposals, and work that will emerge from this encounter, and to the effects that this sort of incubator will have on practices in both advocacy and the arts."
The Center has set a May 1 priority application deadline and a June 15 final deadline for admission into the program. Substantial need-based financial aid is available to cover tuition and other expenses.
More information about the MA program is available on the Center's
website
and prospective students are encouraged to email the M.A. program directly at
[email protected]
.
Application Deadline: June 15
---
Cross Reference:
Application, Program,Opportunities,Human Rights, OSUN