COV-AID Student Engagement Award Winners Featured in University World News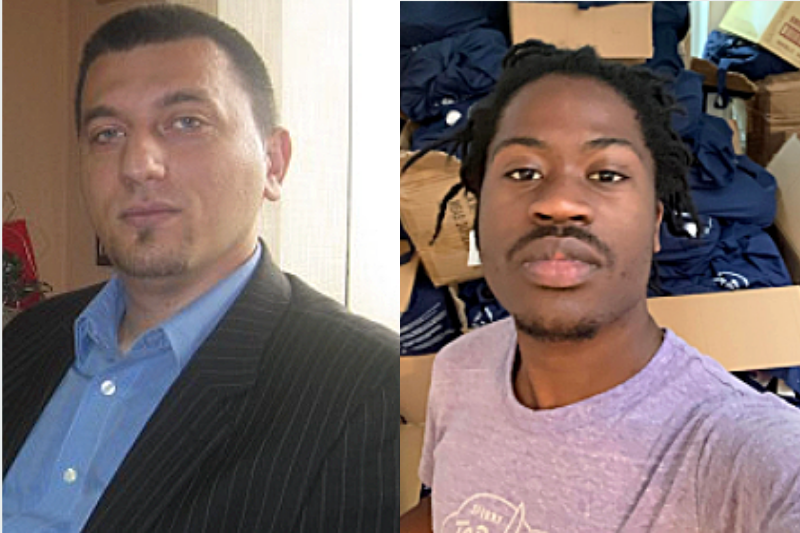 This article was originally published by University World News
Teaching the Power to Make Changes in Everyday Life
By Nathan M. Greenfield
As if to dramatise one of the central points he would make – how poor infrastructure complicates the efforts of small and medium enterprises (SMEs) in Africa to implement digital technologies in production and marketing – and before introducing himself to the virtual audience and other panel members,
Decent Mutanho
explained that he was not on screen "because we have no electricity at all, so I'm trying to improvise".
While using his smart phone to make the best connection he could from Johannesburg, South Africa, he was participating in the 12th episode of the webinar series, "Adapting to the New Reality: Civically engaged universities offer strategies of hope," on 8 March 2021.
That same day, half a world away in New Jersey,
Andy Saunders
, another of the six winners of the
Communities of Virtual Alliance and Inter-Dependence (COV-AID)
mini-grants, woke to the
New York Times
carrying the report, "The Officers Danced at a Black Lives Matter Rally. Then They Stormed the Capitol" (during the 6 January insurrection). This story exemplifies the inequitable actions and racist actors that the police departments that have partnered with Saunders' New Blue Project would not tolerate.
Established by the Open Society University Network (OSUN) in partnership with the Talloires Network of Engaged Universities (comprising 417 university presidents from 79 countries), the
COV-AID Student Engagement Award
(administered at Tufts University in Boston) provided grants to assist student-run projects that were already running or created to help communities during the COVID-19 pandemic.
Out of 306 undergraduate and 117 graduate applications from countries around the world, 10 undergraduate and six graduate student proposals were chosen. Each winner received a US$2,500 grant.
The awards were administered by
Lorlene Hoyt
, executive director of the Talloires Network, and
Erin Cannan
, vice president for civic engagement at Bard College (in upstate New York). Speaking of OSUN's and Talloires Network's activities before the pandemic, Cannan says: "We're teaching students the power of education and the power to make changes on an everyday experience."
When the pandemic struck, she added, "It was important for us to step up and support students who are asking themselves the questions: 'How can I make a difference?' and 'How can I act?'"
The six graduate student winners hail from Kenya, Chile, South Africa, Nicaragua, the United States and Bosnia.
Rose Macharia
from Mount Kenya University used her prize to help fund Light & Empower, which provided solar-powered lights to 200 homes, kiosks, roadside stalls, and communal toilets and washrooms in the Kiandutu slum (near Thika, 40 km north east of Nairobi), as well as solar-powered flashlights to community security officers.
The lights will allow workers, such as vegetable cutters, to work longer hours – which means, says Macharia, who is pursuing a masters in information technology – they will earn more money. Further, she told the 8 March panel that it is important to replace the kerosene lamps that are the main source of light in the homesteads because they produce soot that damages eyes and leads to breathing problems.
"And, if you fall asleep and your son or daughter knocks it over, then you have no house the next day because the house burns to ashes," a reality that seemed so out of kilter.
One of the aims of the COV-AID mini-grant project was to help support graduate students whose efforts at civic engagement were endangered by loss of income during the pandemic.
As
Freddy Yanez Cerda
, a masters student in human scale development at Universidad Austral de Chile (in Valdivia in west central Chile), explained in a short video prepared for COV-AID, because of a drop in his family's income, his efforts to provide safe drinking water in Chile's southern zone on the country's west coast could not have continued were it not for the US$2,500 grant.
In addition to being a masters student, Cerda is the co-founder of Universal Project, an NGO that links technical experts with local groups needing expertise and which has operated in Kenya, Haiti and Chile. Cerda used the grant to access safer transportation, purchase supplies to maintain sanitary protocols and pay for water quality analysis.
Across the South Atlantic, COVID-caused lockdowns prevented Mutanho, a PhD student in marketing at the University of the Witwatersrand, Johannesburg, from moving on with research for his thesis, "Digital and human touchpoints; trade-offs in consumer purchase process and shopping experience research."
The proposal he made to COV-AID was to develop a series of online workshops that help SMEs (of similar size to his family's peanut butter manufacturing company) use digital technology to market their products. Despite the problems with the electrical infrastructure, he believes that local SMEs can use digital marketing to compete successfully with multinational companies, and thus keep the profits in South Africa.
"Most people in South Africa have smartphones," he told
University World News
. "They use them as phones, to access social media platforms and to do their banking." What they are not being used for by SMEs is marketing, he says.
Funding from COV-AID allowed him to design a series of workshops to teach SMEs how to:
• Price their product.
• Showcase it on the website so that "the customer has almost physically experienced it".
• Ethically inform the customer about the product.
• Inform the customer where the product can be purchased and if there are any promotions.
"I tell the companies that they are in niche marketing. And in a niche market, you have to service your customers before you can think of expanding into larger markets," he says.
The products of the companies he trained (including a restaurant and vegetable oil manufacturing company) are now "well known and are competing with bigger companies", he said with pride.
Socially sustainable business model
Saunders' project in New Jersey, and the one that
Sol Rodriguez
, a masters student in applied science (forestry) at the University of British Columbia in Vancouver, Canada, has undertaken in Nicaragua, are parts of significantly larger and better-financed organisations.
In 2017 Rodriguez co-founded Casa Congo, a non-profit dedicated to building community-based conservation programmes and employment in El Astillero, on Nicaragua's Pacific coast.
In 2020 partners and donors contributed US$65,000 that funded programmes in agroecology, community development and conservation, which saved 28,500 sea turtles and planted 150,000 trees.
What most impressed Hoyt, she told
University World News
, was that Rodriguez "had not only developed an innovative design for sustainable housing but, also, a socially sustainable business model that includes a supply chain that supports the building of ecologically sustainable housing and provides jobs to build the local economy".
The sustainable project Hoyt refers to is Casa Congo's "Ku Na," which means "house of nature" in Mayan Yucatec. The COV-AID grant allowed Ku Na to engage the community of El Astillero in the design process that, instead of gathering people together, consisted of a house-to-house survey.
Using US$200,000 raised elsewhere, this year Ku Na has constructed a treatment facility for the bamboo that will be used for the houses and a workshop where the houses will be prefabricated; both facilities will be community-owned. Rodriguez's aim is to produce 20 homes this year, which will be given to people whose homes were destroyed in November 2020 by Hurricane Iota, and the scaling up of production to 125 next year.
Equity-minded decision-making
Saunders' New Blue Project was founded in the wake of George Floyd's murder by Minneapolis police officer Derek Chauvin in May 2020. Saunders is an African-American from New Jersey, who is studying for a masters in public administration at Rutgers University in New Jersey.
After graduating from East Carolina University in Greenville, North Carolina, with a degree in criminal justice, Saunders attended the police academy in Pitt County, North Carolina, and then served as a police officer in Wilson, North Carolina, for several years before returning to teach in a low-income school in Newark, New Jersey.
Designed with his one-time police partner,
Brittany Nestor
, New Blue is not a defund-the-police project but, instead, focuses on training equity-minded decision-makers.
Noting that on the day we spoke, 5 July 2021, a police chief in Ohio was forced out after leaving a Ku Klux Klan note on a black officer's desk, Saunders says: "For us, it is less about power than about the next generation of police leadership. We are interested in creating the sergeants, the sheriffs, the police system leaders that are making decisions. What you see right now are some, not all, of the decision-makers without an equity mindset."
COV-AID funds helped support the design of an online training programme that will enroll its first group this fall, aiming for 100 officers per year by 2025. Far from being a COVID-enforced compromise, Saunders says being online will help build a community of police officers from across the country who want reform but feel they are isolated.
"You might work for a small rural police department and you might see something you feel is unjust, but you don't have the resources or the network to be able to process what just happened in front of you – much less know what's needed to change it," Saunders says.
Among the courses are mental health, ethics of our democracy, social skills and interaction, ally building and communities, and police history. This last is vitally important, he says, because in the police academy, cadets are taught that policing began with Sir Robert Peel's creation of London's Metropolitan Police in 1829 or the one in Boston nine years later.
"But that's just not true. The first policing in America was done by men on horseback that were hunting down runaway slaves."
For police in North Carolina, Georgia or Alabama to understand why the Black community responds to them the way it does, equity-minded police officers need to know about the generations of trauma that runs through American history, he says.
"We are not looking for officers that want to create a neutral zone," Saunders adds, while discussing ally-building, another key component of what New Blue aims to teach police. "We are looking for officers who are actually willing to identify community problems and use their institutional power and leadership to advance the needs of the community," as Saunders himself did when he was a police officer, in addition to arranging for youth who were incarcerated for non-violent crimes to be brought to school instead of to the juvenile magistrate.
Hoyt recalls that when she read Saunders' proposal, "the need for us to elevate the work that he's doing felt very important to me, given the racial reckoning moment we were in when doing the applications [during the Black Lives Matter protests following Floyd's murder]."
Adnan Schubert's
project, the production of a 30-minute film that will document the discrimination against his ethnic group, the Roma, in Banja Luka, Bosnia and Herzegovina, is the most political.
Schubert, a public policy masters student at the Central European University in Vienna, will stay behind the camera, as "Voicing the Voiceless" features the faces and voices of some of the 300 remaining Roma in Banja Luka, telling their own stories of being discriminated against in employment (most are unemployed), education and social welfare.
The film will include stories of how discrimination against the Roma has increased during the pandemic; coincidentally, a month after the 8 March panel, the Open Society Foundations, the parent organisation of OSUN, published
Roma in the COVID-19 Crisis: An early warning from six EU member states
, which highlights, among other threats to the Roma, how "disinformation by members of the far right and others ... frames the Roma as a public health threat, reinforcing and politicising hatred."
Schubert hopes to show the film, which he calls "a lobbying instrument," to Banja Luka's new mayor, the 28-year-old Drasko Stanivukovic, who in 2020 replaced a mayor who "was openly racist towards the Roma," Schubert said in a video prepared as part of his proposal.
"Tremendous challenges"
"COVID represents both a tremendous challenge to universities as well as an opportunity for universities and a university network to demonstrate the characteristics which we so prize: creativity, adaptability, and resilience," says
Jonathan Becker
, Executive Vice President and Vice President for academic affairs at Bard College, New York, who is also Vice-Chancellor of OSUN.
"The prizes are drawing attention to this, but are part of a larger project between the Talloires Network and the Open Society University Network to underline the importance of civic engagement for student learning and development and universities as important social actors," he says.
Post Date:
07-20-2021