Teacher Education and the Mentorship Experience in Palestine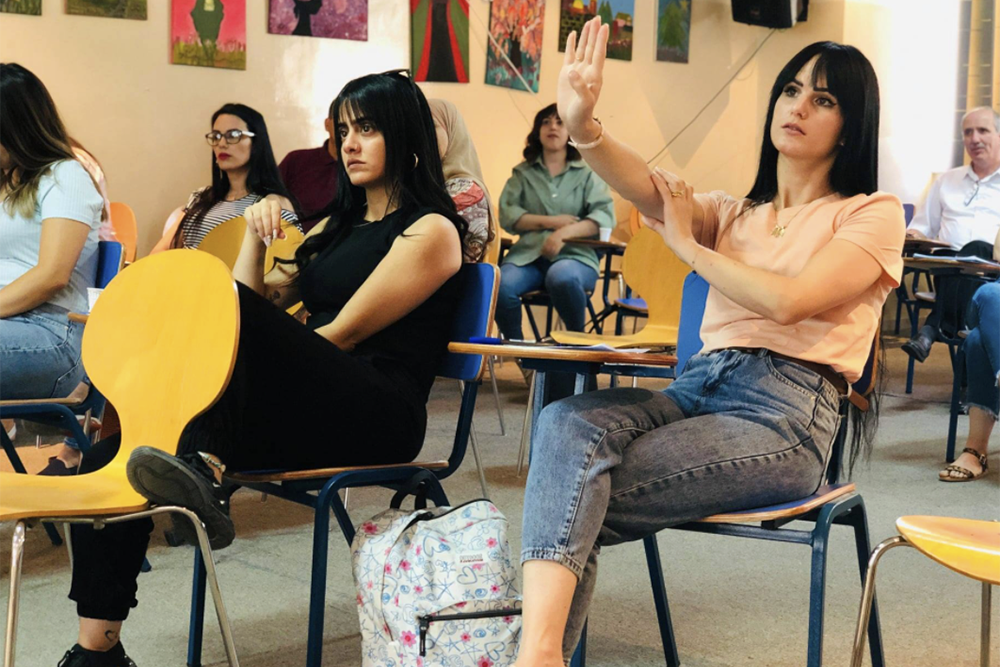 OSUN's
Enhanced Network Teacher Education Capacity
(ENTEC) project and the Master of Arts Teaching Program at
Al Quds Bard
recently held well-attended workshops at Al-Istiqlal University in Jericho and Dar Al-Kalima Evangelical Lutheran School in Bethlehem that focused on the promotion of advanced pedagogic skills for educators. While the ENTEC workshop in Jericho was conducted in preparation for Palestine's participation in the Organisation for Economic Co-operation and Development's
Programme for International Student Assessment
(PISA), the seminar in Bethlehem addressed the implementation of higher thinking skills for more than 80 teachers and ten ENTEC mentors.
Mentors are MAT graduates who have been trained in advising and guidance practices as well as teaching methods. Cross-campus mentorship is a crucial part of the ENTEC project, which also supports partnerships between Bard MAT alumni and MAT candidates at the
American University of Central Asia
(AUCA) in Bishkek, Kyrgyzstan.
The aim of the mentoring component is to increase capacity and help teachers improve learning outcomes where such progress is needed most. In the Bethlehem session, participants learned from mentors about the practical applications of cultivating advanced thinking skills, such as analysis, evaluation, critical thinking, and creativity.
Mentees have found that such collaborations allow them to successfully situate their analysis of their own classrooms within a broader perspective of research on action interventions, such as teaching methods and lesson plans, designed to enhance learning environments and results. Often they wind up being mentors themselves.
Maram Da'boub
says her experience being mentored while she worked on her MAT has nurtured in her enough self assurance so she can now mentor three English language teachers. "The ongoing capacity-building opportunities AQB offers to its graduates, alongside our former MAT professors' trust in us as teachers, has helped me develop self confidence so I too am capable of mentoring other teachers," she says. Da'boub, who has instructed teachers for eight years, says "sharing this experience is awe-inspiring and rewarding."
Da'boub says the program has allowed her to help mentees engage with more modern teaching strategies, assessment tools, and different research methodologies that will equip them in their M.A. studies. "I am looking forward to sharing more experiences with my mentees and witnessing the awesome progression they will achieve in the rest of this mentoring journey."
Mentor
Fatima Mafarjeh
says that mentoring and directing new or previously under-qualified teachers toward professional training is fundamental in preparing them for their careers.
"In my ENTEC mentoring experience, I have encountered teachers who are super passionate and excited about their role as educators; however, they often lack a background in teaching methods or they might just be inexperienced," says Mafarjeh. "And in an online and blended teaching experience, even greater intervention and guidance is needed. As one year of mentoring has already passed, I feel proud that I have been helpful to my mentees."
Post Date:
09-21-2021