Mapping Communities and Saving Lives: GeoHub Applies Technical Skills to Solve Real-World Problems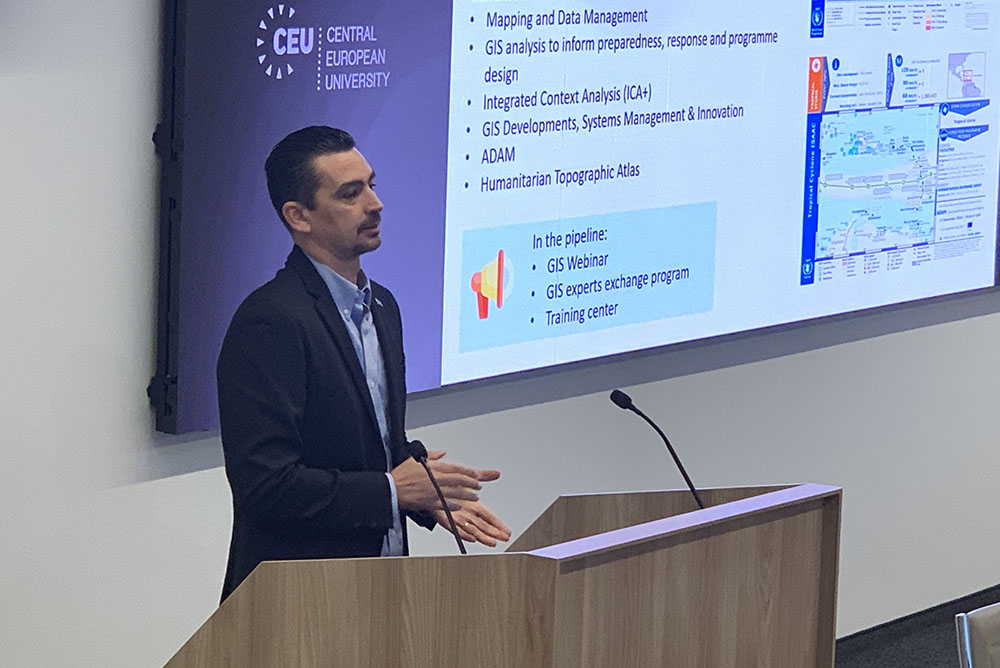 A partnership between Central European University (CEU), American University of Central Asia (AUCA), and Bard College,
GeoHub
is an open platform project that supports the OSUN community in learning the latest geospatial methods and technologies for their research and teaching disciplines. The initiative builds upon CEU's Systems Laboratory (Syslab), led by Professor of Environmental Sciences and Policy,
Viktor Lagutov
. GeoHub offers students and researchers online and onsite training workshops, courses, and internships that focus on finding practical solutions for real-world challenges.
A series of dynamic GeoHub workshops offered last semester gave participants valuable opportunities to enhance their technical skills for tackling problems in the developing world, such as disaster risk reduction, food security, and land degradation.
The
Missing Maps Mapathon
was a crowdsourcing workshop designed to help chart locations across the globe that are the most at risk for disaster. Sixty participants, including students and staff from CEU in Vienna and AUCA in Bishkek, as well as online participants from across OSUN, learned how to apply digital mapping techniques to help reduce risks caused by natural disasters. Attendees received training in the
OpenStreetMap
(OSM) platform from
Paromita Basak
(University of Maryland) and then set to work mapping various methods for assisting communities in the Dominican Republic affected by Hurricane Fiona.
"OSM is a great platform for not only community engagement but also empowerment," says Basak. "It gives the communities immense power to rebuild themselves after a disaster and prepare in a better way before another one happens."
"In the face of recurrent climate crises, it is more crucial than ever to utilize the latest geo-technologies we have for mapping the affected global communities and saving lives," she adds.
At another event focused on supporting
Geographic Information Systems
(GIS) in the field,
Ashraf Abushady
, Innovation and Artificial Intelligence Consultant at UNIDO (United Nations Industrial Development Organization), discussed the World Food Programme's GIS activities ensuring relief work in South Sudan. This was followed by a practical training session for students using the
ArcGIS Online
platform.
South Sudan is the world's youngest country and one that has struggled to overcome a multitude of challenges. In 2022, the humanitarian community in South Sudan estimated that more than two-thirds of the country's population, 8.9 million people, are in need of humanitarian assistance, including hunger relief.
Abushady says that Geographic Information Systems (GIS) technology helps pinpoint the exact location of those who are in need, along with the shortest, safest, and most economical routes to get to them. He noted that applying geospatial technologies increased the efficiency of the field office in South Sudan by up to 25%.
"In an operation of approximately $1.5 billion a year, every little percent of cost reduction makes a big difference," says Abushady. "We have seen in the field that literally GIS can and does save lives!"
Another skill-building session, led by officials from the UN Food and Agriculture Organization (FAO), focused on the application of
satellite imagery
and remote sensing techniques for Earth Observation and environmental monitoring.
Gulnaz Iskakova
, national project coordinator at FAO, provided examples of satellite images used for agricultural and resource assessments and
Carolina Starr
, agricultural officer at FAO, discussed her team's use of GIS applications.
Participants also learned about tools they could use to analyze such data, including the
Google Earth Engine (GEE) Explorer
, a simplified web interface to the GEE that allows anyone to visualize public data, import their own, and run simple evaluations.
"In Kazakhstan, we use satellite imagery for agricultural and resource assessments in combination with the collected ground truth data in order to obtain advance yield forecasts," says Iskakova. "This information can help to provide robust evidence to make well-informed policy decisions and interventions, while also improving the market information for all entities in the agrifood systems," she adds.
GeoHub is mounting critical cross-institutional collaborations to equip OSUN faculty and students with the most up-to-date digital mapping, remote sensing and geospatial data analysis skills. These capabilities not only enhance research and teaching, but provide tangible means for addressing both urgent crises and persistent problems across the globe. Watch the
GeoHub page
for more exciting opportunities.
Post Date:
02-13-2023