Higher Education on the Edge: Global History Lab Bridges Divides and Creates New Narratives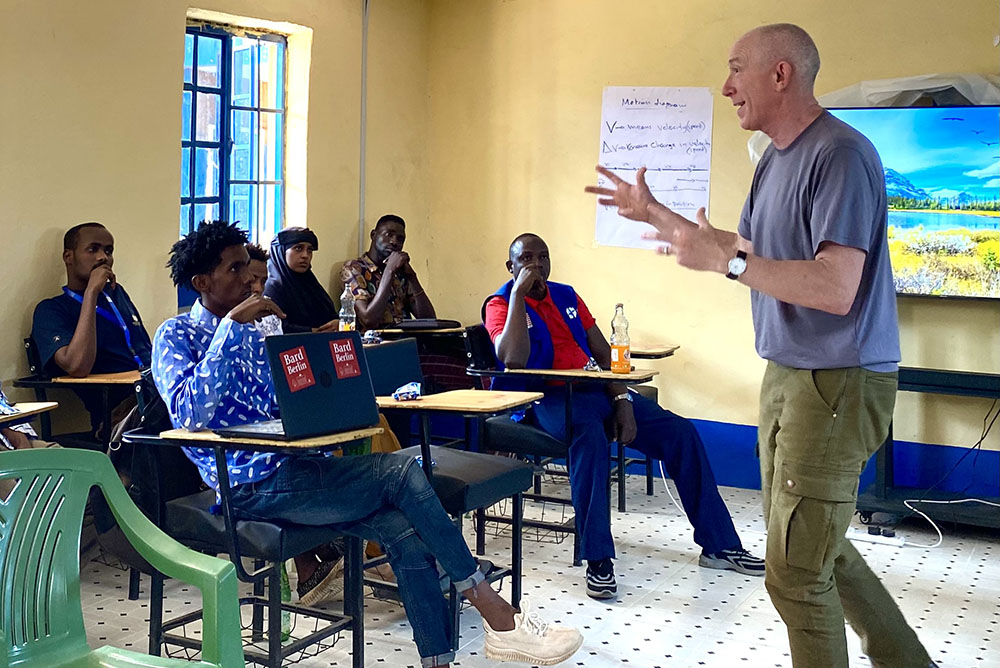 By Alexandra Jones for the the Princeton Institute for International and Regional Studies (PIIRS)
Princeton University's
Global History Lab
(GHL) at the Princeton Institute for International and Regional Studies (PIIRS) provides an unprecedented opportunity for undergraduates to learn from and build connections with their peers all over the world. The program takes a horizontal, networked approach to teaching the history of globalization, fostering empathy, promoting civic engagement, and changing how higher education approaches historical research and knowledge creation in the process.
Now in its third year of partnership with OSUN, the GHL course uses advanced virtual learning technology to connect students from diverse backgrounds and provide higher education to those with the most significant barriers to access. The curriculum includes lessons and discussions on world history since the 13th century, training in conducting oral history, and the opportunity for students to present research projects to their classmates and on the lab's
Global History Dialogues
site. PhD students at OSUN partner institutions, drawn largely from Princeton and Central European University, lead students in small sections, developing their online and connected teaching skills and building collaborative relationships with their fellow scholars.
"The Global History Lab is a learning center for us to think about higher education on the edge—the edge where the growth is, but also the edge in figuring out how to create access for people who are excluded and clamoring to get in," says
Jeremy Adelman
, Henry Charles Lea Professor of History and the GHL's founder. "There's a yearning on the part of so many of our students to learn. They want to be part of this."
In addition to undergraduates enrolled at more than two dozen partner institutions, including universities in emergency zones like Ukraine and Afghanistan, the GHL collaborates with NGOs like the Whitaker Peace and Development Initiative in Uganda and the
OSUN Hubs for Connected Learning Initiatives
in Jordan and Kenya to engage learners shut out from higher education. Students may log on to the course from refugee camps or countries under authoritarian rule. They are often limited by low internet bandwidth and view lectures, participate in class discussions, and even write essays on their smartphones.
"It's about putting together very privileged students with students who do not have the same access and showing them that they can learn from each other," says
Catalina Muñoz
, associate professor in social science at Universidad de los Andes in Bogotá, Colombia. "Just because you don't have the means or credentials to be part of these big universities doesn't mean you don't have ability, intelligence, creativity." This reciprocal model means students learn a more nuanced, interconnected history informed by their peers' unique perspectives.
As the lab's partnership with OSUN has progressed, instructors have identified ways the program could better serve learners needing support. The GHL, Bard College, and Arizona State University developed the
Refugee Higher Education Access Project
(RhEAP), a bridge program designed to upskill students in preparation for higher ed, and piloted the program at OSUN's hub in East Africa in 2021.
"We're trying to set a new standard for access and how students who have been removed from higher education systems might regain that access and be able to feel like they're part of something broader, even though they're not matriculated into a university yet," says
Rebecca Granato
, Associate Vice President for Global Initiatives at Bard College and Program Director for the OSUN Hubs. Students on the margins get an orientation to academic norms and a certificate from Princeton, which can be helpful if at some point they pursue higher education at an institution based in higher income countries.
The GHL can also offer meaningful moral support to learners impacted by war, environmental catastrophe, and political strife. After the Taliban took control of Afghanistan in 2021, institutions like the American University in Afghanistan relocated to nearby nations. Others, like Kardan University and Rana University in Kabul, could not relocate—but teamed up with the GHL to offer the course to students, including women and girls who are now banned from schools.
"They are living under a lot of tension. Mentally, they are not at peace," says
Wahid Wafa
, professional specialist at Princeton's Program in Journalism and Humanities Council, who leads a cohort of GHL students in Afghanistan. "But here, they found an opportunity."
For Wafa's students, connecting with instructors and peers, learning how peoples throughout history have fought oppression, and sharing their own insights and experiences has been a vital lifeline. "It creates a big hope among young students in Kabul that they are in a class which is taught globally in different parts of the world," he says. "They are proud of this."
Post Date:
10-17-2022