Digital by Necessity: Using Applied Technology and Shared Research to Advance Early Colleges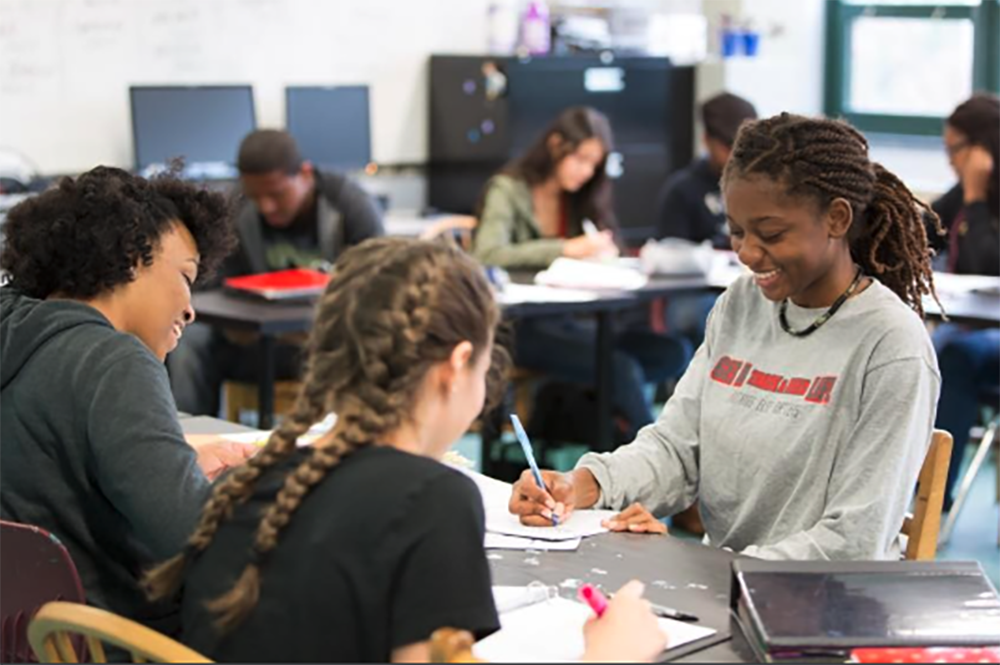 In an article recently published in the digital, open-access academic journal
Early College Folio
,
Jennifer Browdy
, OSUN professor of comparative literature in the
Early College Research Institute
at Bard College at Simon's Rock, writes that virtual learning, when carefully managed with the right tools, not only enables discussion and interaction among students in early college humanities courses but can actually improve it.
Browdy, who has been teaching OSUN Online Courses for two years during the pandemic, explains how she used applied technology, scaffolded assignments, and signature pedagogies to significantly enhance digital discussions, interactions, and collaborations for high school-age students across continents and time zones.
Technology and pedagogy to strengthen global engagement
In the
article
, Browdy gives the example of her Fall 2021 course "Women Write the World," which was offered synchronously on Zoom with students enrolled from multiple OSUN member institutions in Kyrgyzstan, Belarus, Bulgaria, Kenya, Bangladesh, Kyrgyzstan, Afghanistan, Brazil, Berlin, and various locales in the U.S.
Browdy explains how certain tools were key in facilitating collaborative learning in the class. Padlet, a platform that supports digital "bulletin boards," Google Classroom, with functions for a discussion board and for streaming student-to-student communication outside of class, and Zoom's breakout rooms and audio features all contributed to more vigorous and engaged discussions.
For the course's semester-long research assignment, additional technological and pedagogical innovations proved to be instrumental in engaging students across campuses. "Scaffolded" tasks broken down into smaller steps across shared digital spaces advanced collaborative learning while response journals and process writing provided opportunities for students to engage critically with each other's thoughts. The frequent incorporation of multimedia (music, video clips, images, guest speakers, and "field trips" on Google Maps) ensured that students stayed engaged throughout the duration of the course, while benefiting from perspectives and feedback from their peers around the world.
One student in the U.S. wrote in a response survey that choosing her own topics to research and collaborate on over the course of the semester was "invigorating." "It truly felt as though I was in charge of my own learning, though that came with some challenges . . . This inquiry log has allowed me to make my, and many other women's, voices heard…"
Collecting and disseminating early college research
The OSUN-supported
Early College Folio
is a digital, open-access academic journal produced by Early College that publishes research focused on the theory, pedagogy, and application of early college models. The
"Digital by Necessity"
issue, which includes Browdy's article, explores the shift to virtual content delivery and how it has impacted learning, teaching, and research for early college faculty.
John B. Weinstein
, provost and vice president of Bard College at Simons' Rock, says that "an unprecedented number of students are taking early college, dual enrollment, and other related types of courses around the U.S. and the world. The journal is a vital way to communicate what we do in Early College, why we do it, and how it can impact education more broadly."
"Early College is about disseminating as well as collecting," says Weinstein, who explains that the institution aims to build collections of early college research, such as Browdy's, while also working with scholar-educators to extend the impact of such research, helping them to share their findings as they create new knowledge. Efforts seem to be paying off, as Folio issues are now being downloaded by the hundreds by educators in more than forty countries.
Access the full article and issue
here
.
Post Date:
06-14-2022