IWT/CLASP Writer as Reader Workshops: Breathing New Life into Common Texts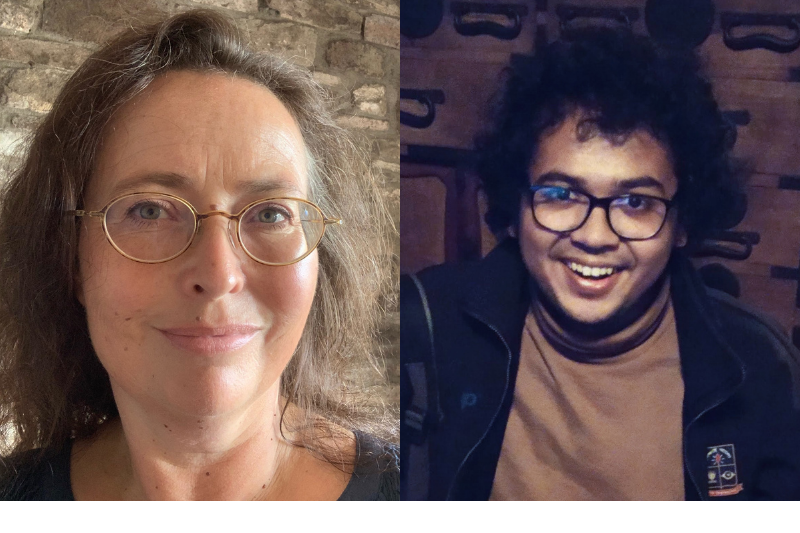 Annually each fall, the Institute for Writing & Thinking (IWT) at OSUN partner institution Bard College offers the Writer as Reader Workshops, a series that has expanded exponentially through IWT's OSUN project, the Center for Liberal Arts and Sciences Pedagogy (CLASP). These workshops provide an immersive experience that breathes new life into the ways educational texts are read and interpreted. Through odd-angled pairings of texts and through generative writing and reading practices, these one-day workshops offer faculty an interdisciplinary path to foster student engagement. The workshops are IWT/CLASP's most popular programs; faculty note that they find the day long but restorative, and leave with concrete strategies to try out in their own classes.
This fall,
IWT/CLASP
offered eight concurrent Writer as Reader Workshops on October 1 and will offer another
ten workshops
on Friday, November 5. Each workshop section has its own core text that serves as a springboard for new approaches.
Lynn Clausen
, a faculty associate at OSUN partner Black Mountains College (BMC) in Wales, has enrolled in several of the workshops, including "
Reading Climate, Writing Change
," which she took in October, focusing on climate-related works by Octavia Butler, Christiana Figueres and Tom Rivett-Carnac. Clausen, who has sometimes found aspects of the curriculum she works with to be "prescriptive and limiting," found the workshops to be extremely helpful in discovering new ways to understand and discuss texts in the classroom. She also looks forward to seeing how things pan out with the new national curriculum being planned in Wales.
In the sessions, instructors were prompted to consider a challenging issue and then write freely about it, first focusing on their personal viewpoints and then contrasting that with what they might teach their students. The two, usually divergent, responses induced each writer to crystallize their own thinking so they could engage more authentically with the effort to address societal challenges.
"A light sort of switched on," recalls Clausen, flipping the pages of a notebook she filled during a week's worth of writing-as-reading exercises. "I was suddenly given the permission and the space to sit down and engage in my own thinking." Immediately inspired, she began using the new techniques with the young people she teaches online.
"I want to share it as far and wide as I can," Clausen says excitedly of the practice. Also a teacher-trainer, she anticipates sharing the intentional pedagogy with a multidisciplinary set of colleagues at BMC.
She hopes that her fellow educators from a wide pedagogical spectrum can work together, sharing tools and techniques to more effectively discuss issues such as global warming. "That's where the magic can happen," she says. "You put a musician with a mathematician, a horticulturalist with a writer and something is going to happen that wouldn't have happened before [...] Finding solutions to problems happens when you allow the space for possibilities to be explored, and already, just with the workshops I have attended, I can see how and where this could be applied and be of great value."
Historically, Writer as Reader workshops have been rooted in the humanities. In response to feedback gathered from OSUN faculty and administrators, IWT CLASP has also developed several new offerings that delve more specifically into multidisciplinary practices and texts, including STEM-focused workshops on "Science and Disenchantment" in October and "The Fractal Nature of Our World" in November.
Meem Arafat Manab
, a lecturer in the Department of Computer Science and Engineering at BRAC University—an OSUN partner in Bangladesh, says they were also hopeful about the results of sharing the CLASP/IWT pedagogical techniques with their students in STEM. Manab enrolled in the "Science and Disenchantment" workshop, which explored the writings of Max Weber and other scientific and political philosophers.
Manab says that while students of science, technology, engineering, and mathematics might be adept at successfully learning and carrying out a technical procedure, such as building a database or a website, they are often less skilled at discovering new solutions or understanding the thought processes that lead to such solutions. Manab claims that this is due to the way STEM students are trained to think.
"I've seen people in the humanities and social sciences—they can explain what they're doing—but when it comes to my students, they are almost taught not to think for themselves...That's what motivated me to take the workshop," they say.
While Manab found the workshop enlightening, they struggled to pass the techniques they learned on to their students; a challenge many faculty encounter given the radically different ways of teaching these workshops present. For example, in a class on software modeling of economic trends, they found students were less interested in creating a model of the Bangladeshi stock market, which has been crashing steadily for the past twenty years.
Manab asked their students to consider and discuss the problem, hoping further engagement would inspire them to explore potential solutions to Bangladesh's perpetual economic slump, but the students claimed there was little point in modeling something that seemed hopelessly broken. This moment of disengagement is one that IWT CLASP workshops aim to address—to offer writing strategies that help students reflect on their own thinking in order to push past resistance to a topic or task.
Manab says one thing that might help them to better address their students' needs would be to associate subject matter more closely with the personal experiences of the students. "The techniques that CLASP/IWT employs are always student-centered and they make this task easier, especially for students finishing up their undergraduate studies." Through the regular use of informal writing, IWT/CLASP practices offer all students a pathway into course materials with which they might not easily or readily connect.
Despite working with very different students and teaching different subjects, both Manab and Clausen found the CLASP/IWT workshops inspiring, even if the challenge of successfully applying their techniques in some academic areas was evident. Both agree that for education to be truly transformative, it must engage students authentically so they can think and solve problems on their own. For this to happen, educators must first get reacquainted with their own thought processes, which is the ultimate goal of any IWT CLASP workshop—to engage faculty experientially as they question and reflect on their own thinking.
As Clausen admits, "We don't give ourselves the space or time to actually sit down and develop a reflective, evaluative practice and yet we expect our students to. As educators and course facilitators, we're not always necessarily walking the talk."
CLASP/IWT will offer ten more Writer as Reader workshops on Friday, November 5, 2021.
Find out more and register here.
Post Date:
10-26-2021