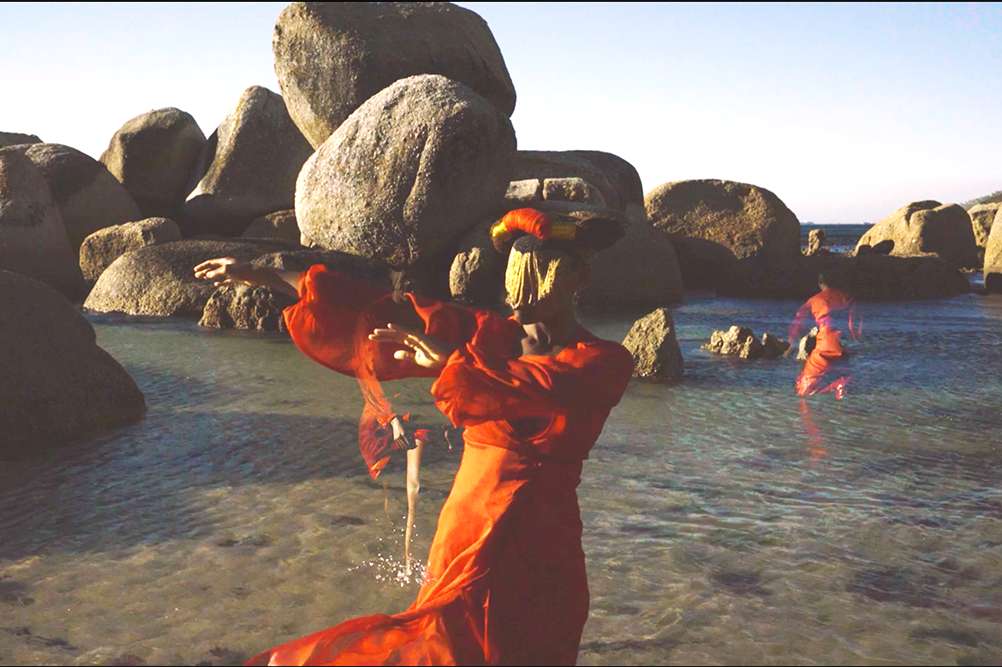 Dwala Lam': Digital Commission with Artist Sethembile Msezane
Monday, June 14, 2021
11:00 am – 12:00 pm
EDT/GMT-4
Online Event
11 AM New York l 5 pm Vienna
CHRA is proud to present a new digital commission featuring a Q&A with artist Sethembile Msezane and writer Dr. Portia Malatjie, moderated by Panashe Chigumadzi, and hosted by the Wits School of Arts.
Sethembile Msezane's work is centred on commemorative practices. Motivated by African spiritual and Indigenous knowledge systems, Msezane engages with performance, photography, installation, and video to shine a light on invisibilized Black women throughout history. She is known to facilitate transgenerational conversations and gatherings with Black women to highlight their unacknowledged contributions in politics, revolutions, and quotidian Black life. Through artistic intervention, Msezane makes visible lost histories, illuminating the path for possible present and future engagement.
In the newly commissioned Dwala Lam' – which translates to "my rock" in Msezane's native isiZulu – the artist continues many of the motifs introduced in her previous work. She focuses specifically on the notion of remembrance, not of forgotten people and histories, but of the propagative capacity for self-affirmation and self-healing. She deploys movement, song, vocalities and geology, to speak to an ever-present companionship (with one's ancestors), to the things that ground us, to history and memory, and to the prominence of the ones after whom we have been named.
Sethembile Msezane
was born in 1991 in KwaZulu Natal, South Africa. She has an MFA from the Michaelis School of Fine Art. Through performance, photography, film, sculpture and drawing, Msezane creates work heavy with spiritual and political symbolism, exploring issues around spirituality, commemoration, dreams, ancestry, and African knowledge systems. Her work also examines the mythmaking used to construct history, calling attention to the absence of the Black female body in both the narratives and physical spaces of historical commemoration.
Dr. Portia Malatjie
is a Senior Lecturer in Visual Cultures at the University of Cape Town's Michaelis School of Fine Art. She is Adjunct Curator of Africa and African Diaspora at Tate Modern, London and Adjunct Curator at Norval Foundation, Cape Town. She holds a PhD in Visual Cultures from Goldsmiths University of London. Her research investigates African conceptions of Blackness through Black Feminism, as well as African sonic and spiritual praxes. Malatjie has lectured at Goldsmiths University of London, Rhodes University and Stellenbosch University.
Panashe Chigumadzi
is the author
These Bones Will Rise Again
(2018), a historical memoir reflecting on Robert Mugabe's military ouster through the spirits of anti-colonial heroine Mbuya Nehanda and her grandmother Mbuya Chigumadzi, which was shortlisted for the 2019 Alan Paton Prize for Non-fiction. A columnist for The New York Times, and contributing editor of the Johannesburg Review of Books, her work has been featured in The Guardian, Chimurenga, Africa is A Country, Boston Review, Transition, Washington Post and Die Ziet. Chigumadzi is a doctoral candidate in Harvard University's Departments of African and African American Studies and History.
Join via Zoom.
---